Le temps des vacances me laisse un peu plus libre pour pouvoir rédiger ce retour sur notre participation au X-Terra en république tchèque.Afin de pouvoir partager tout cela avec les personnes que nous avons rencontré durant notre séjour, je me lance dans la rédaction en anglais, langue officielle de notre séjour.
This year, we decided to take our holidays in august, to make a little X-Terra tour and attend to both stages in Prachatice (Czech Republic) and Zittau (Germany). We stayed the week before the race in Prachatice in a very
nice farmhouse
, lost in the middle of the Sumava forest, partly renewed with guest apartments and even a indoor swimming-pool.Our stay there made us spend a quiet week, between training, resting, chatting with the young guesthouse manager who made us discover the history of the area and of his country, and helped us to feel a little more integrated. We managed to speak a little language sign with others, better than nothing but still frustrating, since people in the farmhouse were welcoming and open-minded (not used to meet french people in this part of the country, for sure !).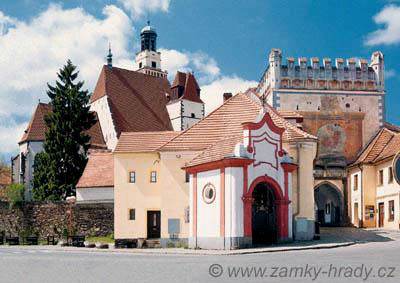 The gate to the old town of Prachatice
This side of the country was left during 40 years after the second world war, as it was along the german border and an attack of the ennemy was feared. Nearby is still a huge forbidden area, an army training field. After crossing the german border, coming from germany and having driven through the rich Bayern, it is weird to see almost left villages, left plants...it seems very poor, where as a little bit further, the country is as developed as ours. Chatting with people from Pragua, we realized that we have the same aspiration and the same western way of life. Once again, we realized how our education in France doesn't help to consider our european country as they really are, too much focused on the old history.
We discovered the surrounding area while training on MTB. The forest is very similar to the forest in the Vosges, so we weren't disoriented.The lake for the race was very dark, it made me remember of my old fear to swim in such water. This was one of the reason why I didn't choose do to triathlon earlier. Thanks to the neoprene swimsuit, I feel more safe now !
A quiet river in a little "canyion" behind X-Terra's lake
We also enoyed visiting a beautiful czech city,
Cesky Krumlov
. A castle, a big garden on a other hill linked with the castle by a long bridge, and a middle-age town down the castle by the river. Very touristic, but worth visiting. This was our only touristic break of the week, since we needed to train and rest.
Cesky Krumlov - Central place in the old town
We both became a little stressed before the race, like almost every X-Terra we did this year, willing to do our best and not really knowing what we are able to do.
The swim session was two laps of 750m. The start was very fast, and in this wash machine, I was not good at ease, not able to find good support, and with so many swimmers around me. After 400m, I eventually managed to swim better. If I can now swim 1500m without feeling tired, my technique is very perfectible. Once again, I finished about 13rd. On MTB, I felt very fit this day, and step by step, managed to finish 5th. Although I kept in mind the running part, hard and very steep, I understood very soon that this was too steep for me, not trained for that and so, unable to run in these sections. I am not very fast for the downhill too, so, apart from the more flat sections, I wasn't really good, and my motivation was low. I ran too slow and lost 4 places, which was a lot. Even though, I managed to take over David, not really fit and a little bit hurt after a fall. I yelled like a wolf to announce that I was coming, which didn't make him laugh : "If you manage to laugh, you could have run much better !". All the girls runs very fast, sure there is a really good level on these races to finish that way (I finish about 60 over almost 300 participants on the start list). At the arrival, I am a little bit disappointed not having being more stronger in my head, but I know that this is difficult, and jungling with work, training, competition doesn't allow you to always have the strength, physicaly and mentaly, to compete hard. It's already a good thing to do all of this, while colleagues are having sunbaths on the beach :)
After the race, we were happy to meet the girls I competed with. And to see how simple and open the best of them are. Very supporting too. I discussed with Helena Erbenova, who managed once again to win this race, taking the win on the running section. A strong girl, but also very nice and open, simple in spite of her ultra-favorite status on the X-Terra races this year. Along the running section, another top-5 woman, Jaqui Slack, who left the race during the runing part, stayed to support the other girls...Very good spirit too. All of the other top-5 girls, and beyond, are also very sympathetic, and not being with a team (like in MTB) allow all of them to meet after the race, espacially in Prachatice where there was a party after the race in the center of the old town. I also met Rebecca Altenmeier from germany, who won in the triathlon of Kruth-Wildenstein in Juni this year (where I finished 3dr), and finished just after me in Xonrupt, and was 7th in Prachatice. We discovered a lot of things in common, like Freiburg, where she lives and where I settled for 6 months during my end-of-study training in 2005, travelling with a VW Van, both 30 etc...
All of that made us spend a good after-race evening, and forget the difficulty of the race. Now, we have to recover and do the trip to Zittau, first making a little stop in Pragua !
More pictures of the race coming later !